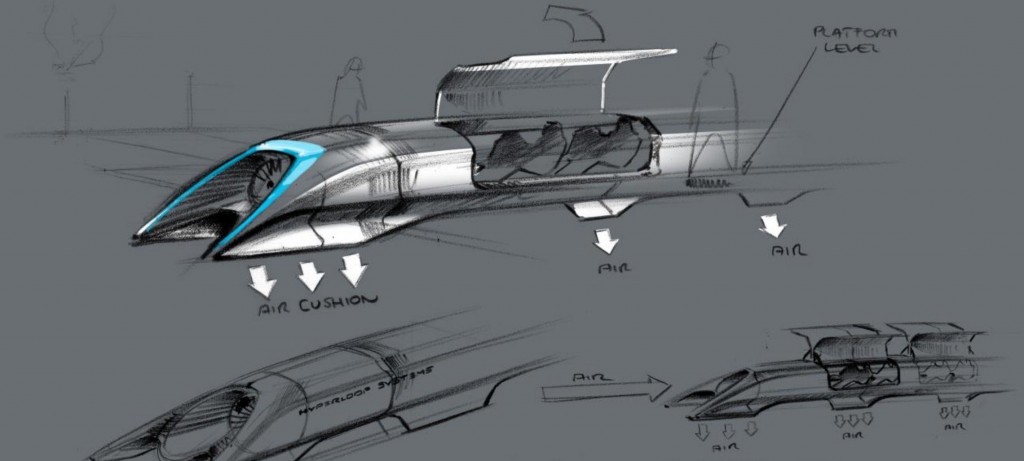 Every time Elon Musk's dazzling transportation system of the future, the Hyperloop, gets a mention in the press, so does air hockey. Musk described the Hyperloop back in 2013 as "a cross between a Concorde, a rail gun, and an air hockey table" and that innocent description seems to make it into every article about the new technology. Lately that has been often, since two competing ventures recently filed for permits to make Hyperloop test tracks a reality.
So air hockey has been on my brain a little lately because of this and I wonder if it has been on others' as well.
Twelve years ago I set out to make a film about air hockey and a small but passionate group of people that competed seriously at it. Although Way of the Puck was eventually released in 2010, the lion's share of the photography was done between 2004 and 2006. In fact, a very early temp version of the documentary played at the Houston International Film Festival in 2006.
This was the year of Gnarls Barkley's "Crazy" and Justin Timberlake's "Sexyback." The year of Dreamgirls and The Departed. The West Wing was still on the air. "SPARTA!"
A lifetime ago.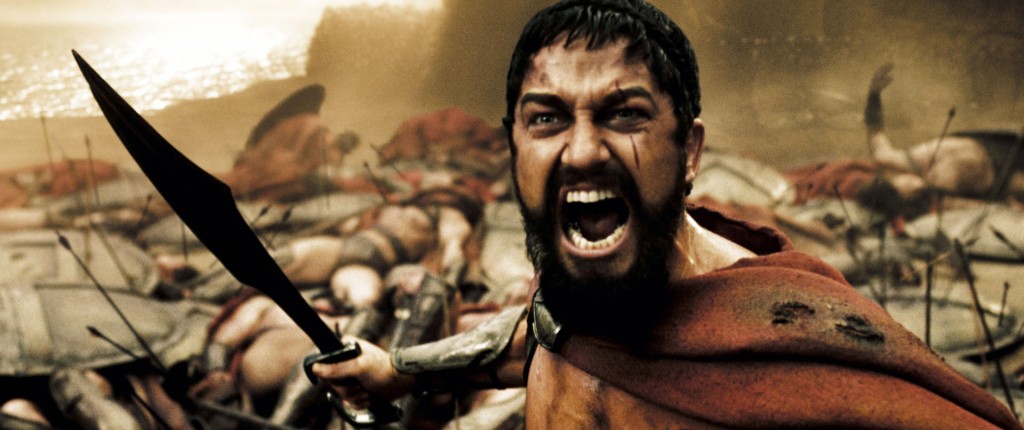 Thanks to the Hyperloop, however, I've gotten curious again about air hockey. What happened to all of those guys in Way of the Puck? Were they able to grow the sport at all? Or did they abandon their love air hockey for more practical things? It's not the early 1970s anymore; it's 2016! Is anything happening at all? Perhaps I should reengage with the strange universe of air hockey to see if anything interesting is still going on there…
Here at the Way of the Puck website we intend to celebrate the 10-year anniversary of that initial festival run by rolling out a limited series of air hockey-related articles, interviews, and posts over the coming year. We'll publish an interview with the current world champion, a 16-year-old high school junior from Beaumont, Texas. We'll put out a first-person account of a California player brought in to battle test an air hockey robot. We'll see what's happening on the manufacturing side of air hockey, if anything. We'll look up our friends in Spain and Venezuela and explore whether air hockey interest has continued to spread internationally. And we'll check in with some of the main characters from the movie to see where they are now: the Promoter, the Guru, the Ex-Champ, and the Entrepreneur.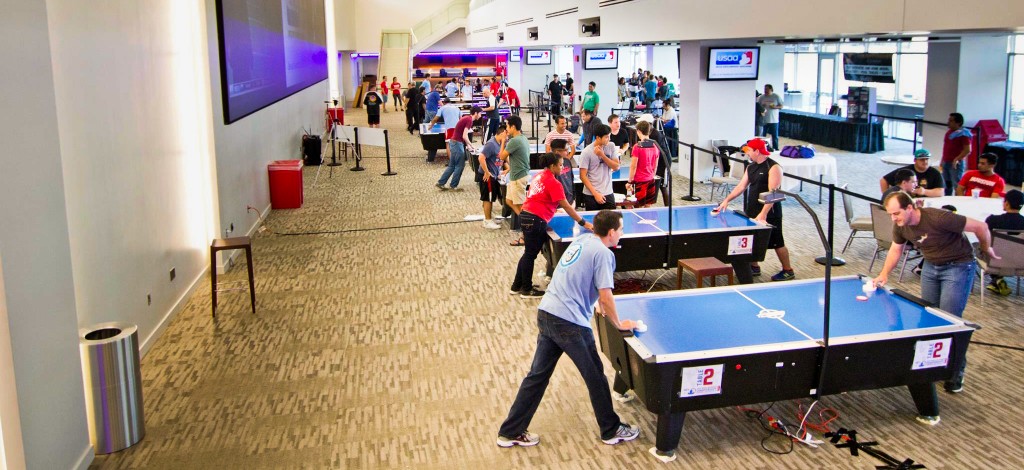 And what's up with this upstart AHPA? Is this a rival air hockey league or just another promotional body? Are they trying to secede from the air hockey Union? Never forget: Nobody respected the AFL in the beginning either.
Then again, people disrespected the USFL as well—and rightfully so.
Stay tuned. Air hockey still loves you.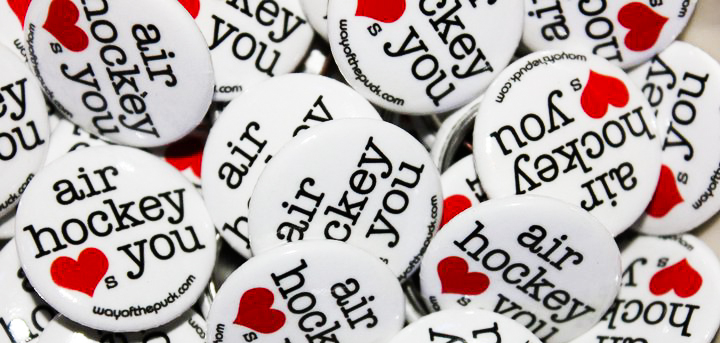 If Jose Mora is lithe, lanky, elegant Seattle Mariner Ichiro Suzuki, then Pedro Otero is power hitter Hideki Matsui. All honed their skills playing professionally abroad, then emerged as dominant "rookies" on the international scene. Unbelievably, Otero competed in only four world championships, finishing second in 1998, 1999, and 2000, and finishing fifth in 2001. It is a masterfully short career, and Pedro has probably the highest average finish-per-event in air hockey history. Known for his rock-solid defense, and uniquely powerful (and difficult to defend) right-wall-over, Pedro lived in the competitive shadow of his friend and fellow countryman Jose Mora, who edged him out in three successive tournaments.
We traveled to Madrid to speak with Pedro back in the summer of 2004. The footage was never used in the film, but we wanted to publish a short excerpt of the interview and wish him well.
---
WOTP: Can you tell me how you got started?
PEDRO: I began playing in the city of Caracas in Venezuela in 1994. I was seventeen years old, and I began playing with some friends. We played our games at Arcade City, which is where we played for many years. Over time, more people joined us. My normal practice partner was Jose Mora. We spent a lot of time practicing together. I can say that our levels were equal because of our consistent practice. We practiced very often, practically every day, and that helped us reach a level that allowed us to travel in 1998.
WOTP: How did that all come about?
PEDRO: In 1998 Jose and I decided to travel to the international tournament in Santa Cruz, California. Tim Weissman helped us in our adventure –- to find some manner to travel to the United States. He made a collection of money amongst the players over there. And he facilitated ticketing information and things like that. I can say that if it were not for him, I believe that we would never have been able to go.
But we still had to embark on a 79-hour one-way bus trip once we arrived in the United States, without knowing, really, what expectations we had for winning, nor having been able to compare or contrast or playing level with the players there. I realize it was a stupid thing to do, an odyssey based more than anything on youth. But in reality, I'm sure neither Jose nor I regret it. And the fruits of this [Jose and Pedro finished first and second place] demonstrate that it was worth the effort.
WOTP: Were there style differences that allowed you succeed against the US players?
PEDRO: I believe that our style is different because in Venezuela we had many more players to compete against – the player base in Caracas was larger than any other city in America, except maybe Houston. There was more of a variety of rivals, which is why I think our style had to be much more complete. We could not just mold ourselves to the characteristics of one player. We had to have a game that was more compact and as complete as possible.
When I beat Tim Weissman in the semi-finals, I can say that is the biggest moment that I have lived inside of air hockey. And one of the best moments of my life, without a doubt. I can still remember that moment, everything that surrounded it, how I got to that moment. I can say that although I was beginning my career in air hockey, it was the culminating moment as well.
WOTP: How did you end up in Spain?
PEDRO: In the year 2001 I was trying to go live in the United States, because the situation in Venezuela wasn't adequate. Andy Yevish helped me a lot. He was very helpful. Lamentably, in the end, things could not be. But I am still very grateful to him.
My family members and I decided to come to Madrid, but there is really only air hockey in one city in Spain, which is Barcelona. Generally, this isn't very good for me because it is about 600 kilometers away. In all sincerity, it was very hard to stop practicing air hockey so much after eight years of uninterrupted play, but there came a moment when I had to recognize that life has other priorities.
WOTP: Do you miss it?
PEDRO: Truthfully, air hockey has given me many good moments, some of the best moments in my life. It has helped me feel that I can attain what I set out to do. In some ways I feel empty having left air hockey. But if were up to me –- under ideal circumstances –- I would have continued playing for the rest of my life.
Air hockey is a sport that teaches you the skills to better yourself in life. And for me, it has helped me realize myself as a person. Others I have played with have made the same comment –- that it's extremely fun and competitive, and you enrich yourself as a person while playing it.
But one of the best things about air hockey is that you become like a small family, and always maintain contact. We always know about each other. And wherever you go, other air hockey players will know you are there and seek you out. It is something like a chemical between us, between all of us who have played. And that is something special.
Thanks, Pedro!